StreamCentral
  
StreamCentral significantly reduces the time required to the design, develop and implement real time / streaming / "in-flight" data solutions as well as stored / "at-rest" data solutions. These would include building a central "Single Source of Truth" data store, IoT / Sensor Applications, Business Intelligence, Operational Intelligence, Big Data, Data Warehousing and Predictive Analytics.
Traditional projects such has Data Warehousing which took years to implement and typically delivered questionable returns on investment can now be completed in weeks, and hence significantly reducing both the cost and the risk of such projects.
StreamCentral can ingest and process as much data as you need and from multiple sources, simultaneously. We call this "Data Plumbing" and it includes Transformation, Standardisation, Enrichment and Clean-up using Fuzzy Logic for identifying and maintaining Master Data.
It can make the data it ingests and enriches available to users and applications "in memory" (for real-time/in-memory analytics applications), as streamed output accessible through APIs (for data driven applications) and as stored data in Data Marts / Data Warehouses that it automatically designs builds & maintains.
As it ingests data from one or more sources StreamCentral identifies events/transactions/data values that are of interest to you (Events of Interest) as they occur and alerts you to them and/or sends related messages to external applications through an API.
StreamCentral also provides the environment to operationalise Data Stream Mining (DSM) and the Predictive outcomes of Machine Learning (ML) / Artificial Intelligence (AI) solutions. This means that predictions can be made and notified in real-time as data is ingested.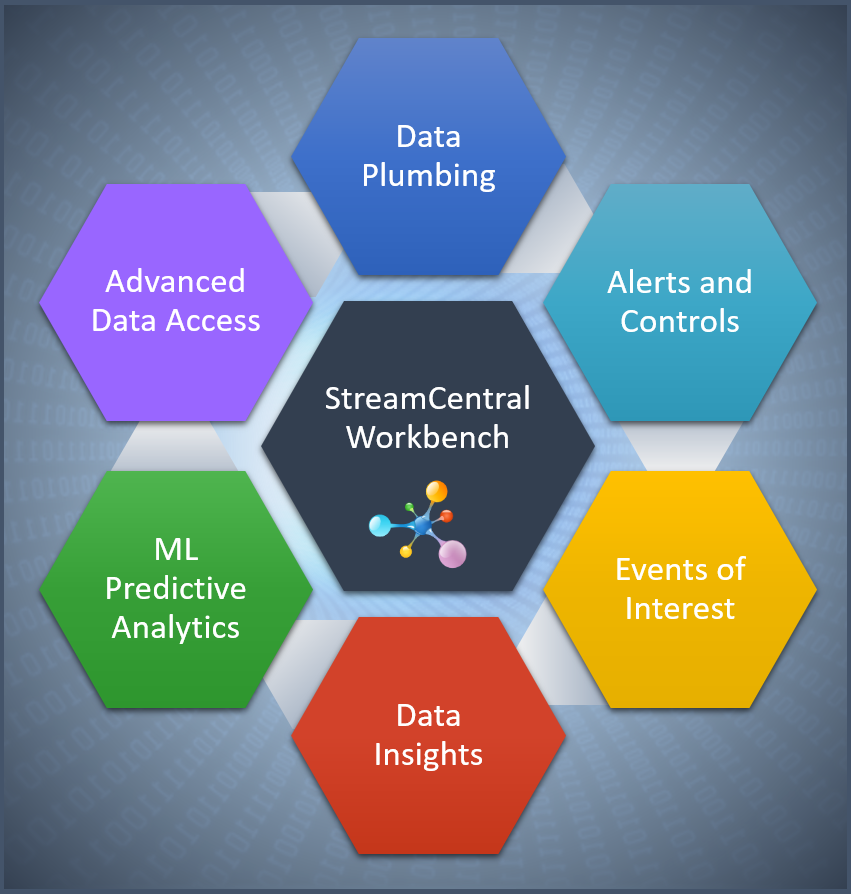 StreamCentral bridges the gap in building powerful Business Intelligence and real-time Big Data solutions by quickly enabling you to move from a blank sheet of paper to a production system, one that is comprehensive and powerful that can be delivered without a large investment in specialist skills.
StreamCentral brings together the ability to model real-time business solutions by introducing an innovative solution designer that is incorporated into its no-code, user driven Workbench. The Workbench enables non-IT developers to attach new data sources, create business, correlation and event detection rules, and orchestrates the automatic design, build, implementation and maintenance of Data Warehouses/Data Marts. Together, these capabilities can drastically reduce time to market as well as the risk and cost associated with building Data solutions.
StreamCentral is available as both an enterprise / private cloud solution and a public cloud solution. There is also a version that runs on Microsoft's Azure platform.
The power of StreamCentral to operationalise and automate Predictive Analytics is a major game changer. StreamCentral has its own Machine Learning component which is configured and trained through a user driven interface. However this may be substituted by other ML, AI or DSM solutions if required.
We are partnering with Reading University to push the boundaries of what can be achieved with Data Stream Mining to further advance Predictive Analytics. This builds on the pan European Horizon 2020 collaboration projects that use tStreamCentral platform as the basis to run Machine Learning models that are intended to predict issues that compromise Rail transportation across Europe as well as the operation and safety of the European 10-T network.