SOLUTIONS
The solutions we build address real world business and technology challenges, each providing comprehensive functionality, based on a deep understanding of the underlying issues and challenges. Common to all of them are the new and valuable data driven insights they provide. Below are some examples.
StreamCentral  is an example of a data platform we designed to allow data streamed in from data sources in the telecomms sector to be collected in real time and passed on to other applications for analysis and reporting.
The value that can be generated by a platform like StreamCentral includes:
Speed to market with new data related propositions – by rapid integration with other data related solution elements such as Predictive Analytics, Digital, IoT and others
Feed new data driven apps that present existing data and easily capture new data
Consolidate existing data, without the need for expensive IT resource
Add new data sources with ease
Use it as a "sandbox" to quickly add new data, use that data, then discard it if it does not add value
360º data views of customers become easier to attain and maintain when using MDM tools
Exploit the full potential of modern data tools (MI, BI, Data Analytics, Data Visualisation)
Operationalise predictive analytics by feeding Machine Learning/ Artificial Intelligence solutions
Integrate data and value from emerging Digital and IoT solutions with your existing IT infrastructure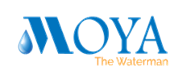 MOYA The Waterman, is a comprehensive B2C application for the water bottle distribution Industry. It provides water distribution businesses with a set of comprehensive centralised management functionality that automates and integrates order, supply and stock control processes and provides a direct mobile app connection with customers.